We love a good programming book here at In Easy Steps, and our great range covers all the basics – and some more advanced systems – from Building Android Apps, Coding for Beginner and Raspberry Pi, to Web Design, CSS3, PHP and Java.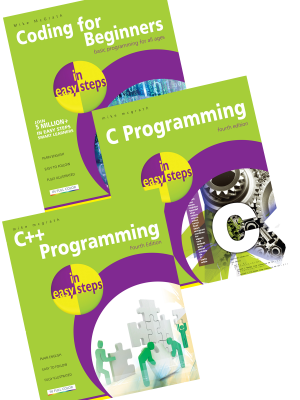 Because coding fans tend to have a vast skillset, we've got a set to suit anyone.
Click here for the full range, or see below for some of our favourites!
RRP £10.99 each – buy all three books for only £20!
Coding for Beginners in easy steps has an easy-to-follow style that will appeal to anyone, of any age, who wants to begin coding computer programs. You need have no previous knowledge of any computer programming language so it's ideal for the newcomer, including youngsters needing to learn programming basics for the school curriculum.
C Programming in easy steps contains separate chapters on the major features of the C language. There are complete example programs that demonstrate each aspect of C together with screenshots that illustrate the output when that program has been executed. The sample code provided all has colored syntax-highlighting for clearer understanding.
ow, in its fourth edition, C++ Programming in easy steps begins by explaining how to download and install a free C++ compiler so you can quickly begin to create your own executable programs by copying the book's examples. It demonstrates all the C++ language basics before moving on to provide examples of Object Oriented Programming.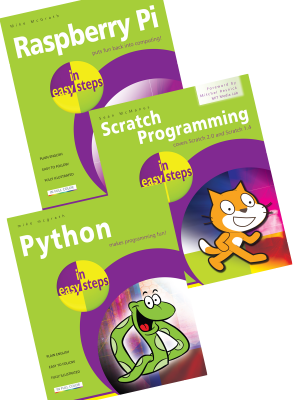 Raspberry Pi, Scratch Programming and Python
RRP £10.99 each – buy all three books together for only £20.00!
Raspberry Pi in easy steps starts with the basic components you'll need, setting up the system and logging into the console, have fun and create your own applications!
Scratch Programming in easy steps introduces readers to Scratch, a programming language that is widely used on the Raspberry Pi and in UK schools and begins with a foreword by Mitchel Resnick, Professor of Learning Research at the MIT Media Lab, which created Scratch.
Python in easy steps instructs you how to program in the powerful Python language, giving complete examples that illustrate each aspect with colourized source code. It begins by explaining how to install the free Python interpreter so you can quickly begin to create your own executable programs by copying the book's examples.
Now also available, Raspberry Pi 3, Scratch Programming and Python in easy steps set!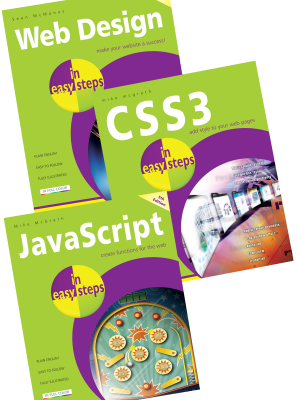 Buy all three together for only £22!
Web Design in easy steps, now in its sixth edition, reveals the key principles of good web design. It guides you through the process of creating a website, from planning to search engine promotion. Avoid creating another ineffective website on the net. Use this title to create a successful site that looks good and achieves its purpose.
CSS3 in easy steps instructs the user how to create exciting web pages using Cascading Style Sheets version 3 (CSS3) for presentation and dynamic effect. The book examples provide clear syntax-highlighted code showing how to selectively style components of an HTML document and how to endow components with interactive functionality, to illustrate each aspect of CSS3.
JavaScript in easy steps, now in its 5th edition, instructs the user how to create exciting web pages that employ the power of JavaScript to provide functionality.  You need have no previous knowledge of any scripting language so it's ideal for the newcomer to JavaScript. By the end of this book you will have gained a sound understanding of JavaScript and be able to add exciting dynamic scripts to your own web pages.