We're huge fans of Scratch Programming here at In Easy Steps, and we love to hear positive views and user feedback – on all of our titles!
Cool Scratch Programming in easy steps, released in August 2016 has been given a 5 Star review from I Programmer and reviewer Harry Fairhead. Read on to find out his thoughts…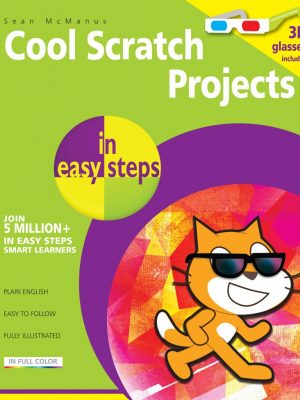 Rating: 5
Reviewer: Harry Fairhead
"Scratch – an easy language to learn but what do you do next?
"One very good choice is to buy a copy of Cool Scratch Projects. I can't promise that you will like all of them, but you should find enough to inspire you to create something. The problem is that it is easy to get started with Scratch, but even though you might know how it works you need to have seen the sorts of things that you can do with seemingly unpromising facilities. "
 – Cool Scratch Projects in easy steps is excellent in this respect, as all the projects are fully illustrated and described. There are free downloads and other resources available on our website, and also neat stuff including videos showing the final results!
Harry continues…
"Really all there is to say is what the projects are and how exciting – which is of course a subjective thing.   The second project is Gribbet!, a challenge to conduct a chorus of frogs. Next we have a Drum Machine, a more obvious idea but one that is likely to attract its share of noisy wannabe drummers.
"The next few projects are 3D. Using red and green glasses, included with the book you can create graphics that look 3D. How you react to the projects depends on how much you like the 3D. I can well imagine that beginners would love it.  . . . The important thing about these three projects is that it gives you a clear idea how to create 3D effects and you could easily be creative and modify other projects to include elements of 3D.
"Project 8 and 9 is a 3D Maze Explorer. This doesn't rely on the red and green glasses, but instead creates a perspective display of the walls of the maze. It is a classic game and it is nice to see it included.
"The final two big projects are slightly different. Sprites, Cameras, Action! makes use of a Raspberry Pi camera and Scratch to create stop motion videos. If you have a Pi then this is probably the most exciting project in the book. If you don't have a Pi then it's a good reason to get one. Project 11 is called Super Wheelie and it's a ScratchJr project which runs on Android and iPads.
"Overall this is a good book – motivating, in full color and with plenty to encourage the beginner. If you are a teacher then you could do worse than to get a copy and "borrow" the ideas. If you are using Scratch on your own, not only will it give you something to do with your new skill, it will help you invent even more things to do."
Thanks Harry – we're glad you enjoyed Cool Scratch Projects in easy steps!
Read the full review here: http://www.i-programmer.info/bookreviews/14-other-languages/10361-cool-scratch-projects-in-easy-steps.html
Also, check out the 5 Star Scratch Programming review by Lucy Black