As a sub-series of the popular In Easy Steps series, The QuestKids™ series is designed to make learning fun for children. It uses the same proven approach of fully-illustrated, easy-to-follow reading and concise instructions, but uses attention-grabbing storylines to inspire children to learn particular topics, starting with coding. The series is supported by a designated website for downloadable resources and further interactive learning.
Who are The QuestKids?
Dan Devices and Tiffany Tech are the best of friends, and an amazing team who love to explore and help each other whenever they can. Dan adores devices; Tiff loves tech, and both are on a constant quest to learn new things and look for fun and adventure in everything they do. The friends are joined by their pets, Smuffy and Chew-Chew, who help them out in their own special way. Together, they are The QuestKids!
First title in the new series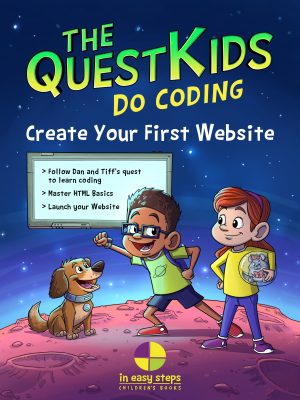 Create Your First Website in easy steps has a captivating storyline, and will teach children how to build their first website in a fun way, in easy steps. Children will follow The QuestKids on their quest to design a website to power a new planet.
Along the way children will learn how to:
Master HTML (Hyper Text Markup Language) basics:
Page Titles
Page Headings
Paragraphs
Links
Lists
Images
Tables
Page Structure
Navigation
Styling
Launch their new website. Children will only need a computer or a laptop, a text editor, a web browser, and an internet connection.
By the end of the book, children will have a fully functional website and a great book to refer back to for future projects. Suitable for children aged 7 years and above.
£6.99
72 pages (295 x 228 mm)
ISBN: 9781840788198
Publication date: 30 April 2018
For more information, email: info@ineasysteps.com or visit the book's page in our online shop.
Tel: +44 (0)1926 831557
In Easy Steps Limited
16 Hamilton Terrace
Leamington Spa
Warwickshire
CV32 4LY
UK