The Creators Update, Microsoft's third major update to Windows 10, is scheduled to begin it's official rollout on the 11th April.
With more than 400 million Windows 10 users, the hotly anticipated Creators Update has now been given a specific release date, the 11th April. After currently being in the works for almost a year, the release falls alongside the April Patch Tuesday release, a release containing new security patches for Windows. Similar to the Anniversary Update, released on the 2nd of August 2016, the Creators Update will gradually filter out in waves targeting specific Anniversary Update devices first, with full rollout continuing over the following weeks. The Creators Up
date will be free to Windows 10 users, and if you are using the system at Anniversary Update level, Windows 10 will automatically download the update for you to confirm and install it when it is ready for you.
Within the Creators Update are reported new features such as 'Night Light', Windows Update improvements, stock app updates and more, including prompts to make privacy control easier (Windows Central). These enhancements will help both the advanced 'creators', as well as the average Windows 10 user, and certain privacy settings features aim to rectify any negative feedback Microsoft previously received.
Also upcoming in the 11th April update are creative new features, including:
Updated Start Menu, including the addition of 'live folders' and view options for the All Apps list.
Cortana improvements including the use of large text for notifications, improved web browsing capacity and Cortana inclusion when setting up Windows 10 for the first time. Also Cortana will be able to suggest reminders from content such as emails, requiring less user set up overall.
Tab saving features and 'Set Tabs aside' options in the Microsoft Edge browser, as well as a new Web Payments API for developers, automatically disabled Flash (for security) and an Edge Books area linked to the Windows Store Books Store.
Support for 4K screens when using Microsoft Edge and Netflix 4K streaming.
Windows Update improvements where systems only download the files they need for a major update, making updates 35% smaller, with less data use and faster downloads.
Night Light, a feature giving the screen a warm tint when enabled, blocking blue light which has been proven to trick the brain into thinking it is daylight, prohibiting sleep for users working late at night.
Gaming enhancements, with 'Beam' built-in streaming in the Game Bar, enabling better functionality of classic Windows PC games, and a dedicated section of the Settings app which allows the configuation of old and new gaming settings for PC gamers.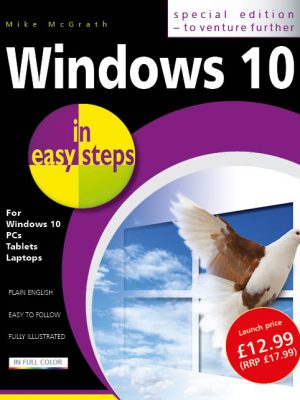 Click here to find out more.
If you are eagerly awaiting the Creators Update, and want to be notified when our freshly updated title, Windows 10 in easy steps – Special Edition, 2nd Edition (covers the Creators Update) is available, follow the 'Let me know…' link at the bottom of the page. This title is the ideal handbook for Windows 10, and will allow you to fully appreciate the Creators Update, to it's full capacity.