Learn to use your new iPhone quickly: Messaging, calls and emails, video calls with FaceTime, use iCloud and Family Sharing, explore the iTunes Music Library and much more!
Covers iPhones with iOS 12 and illustrated using iPhone XR, XS and XS Max..
Available NOW from our online shop for the special launch price of £7.99 (RRP £10.99)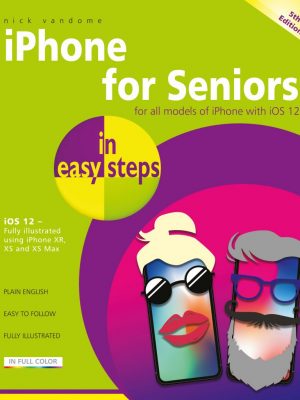 iPhone for Seniors in easy steps, 5th edition covers everything you need to know to keep fully connected. With your iPhone in your pocket you are only ever a couple of taps away from friends and family. Learn how to:
Make and receive phone calls
Text with the Messages app, including a variety of new fun features
Make video calls with FaceTime
Set up and use email accounts
Use Settings to customise your iPhone exactly to your style and requirement
Use Apple Pay on your iPhone to pay securely – no need to carry your wallet all the time
Master the newly designed Control Center
Explore the entire iTunes Music library, share music, videos, apps, calendars and photos with family members – stay in the loop with children and grandchildren!
iPhone for Seniors in easy steps, 5th edition takes the mystery out of using your iPhone and shows how it can become your most useful digital companion, ready to help keep you in touch, up-to-date and entertained.
192 pages
ISBN: 9781840788341