For Mac newbies, and those upgrading. Learn to use the Finder, personalize your Desktop, and use Siri to carry out tasks for you. Get to grips with the built-in apps, iCloud and Family Sharing – and more!
Available NOW from our online shop at the special launch price of £7.99 (RRP £10.99)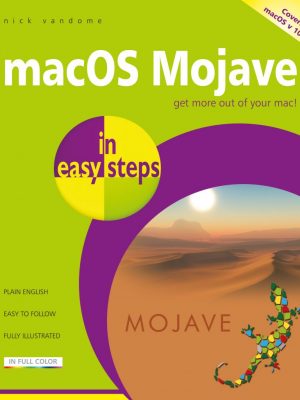 macOS Mojave in easy steps opens up by explaining the foundations of macOS: the Dock and the Finder. Then, it reveals a raft of ways in which you can make the most of macOS Mojave:
Multi-Touch navigation options for getting around in macOS Mojave.
Working with and managing your apps.
Productivity options on your Mac.
Getting online with Safari, Mail, Messages and FaceTime.
Managing your digital lifestyle for photos, music, video, books and games.
The invaluable iCloud online function for backing up, sharing and continuing from different devices.
Using Siri, Dynamic Desktop and Dark Mode to make things even easier.
Keeping your Mac working smoothly.
There is also a chapter on troubleshooting and keeping macOS Mojave in tiptop shape.
Get more out of your Mac, Mac mini, Mac Pro or MacBook with minimum time and effort!
Pages: 192
Publication: December 2018
ISBN: 978-1-84078-835-8