Smart Homes in easy steps shows you how to start to take advantage of the current smart technology that is beginning to revolutionise the way in which we run our homes!
Available now from our online shop at the special launch price of £7.99 (RRP £10.99)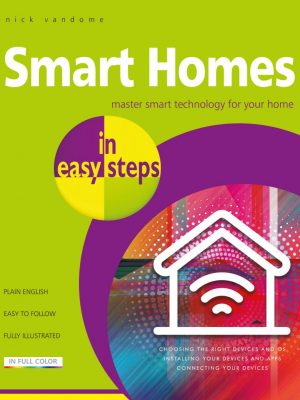 Smart Homes in easy steps takes the mystery out of all of the elements that are required to set up a smart home: it defines a smart home and shows what is needed to make a home smart: digital voice assistants, devices and apps.
Initially, the book looks at the concept of a smart home and how it is now affordable and accessible enough for it to be a serious option for any household. Then, setting up items for a smart home is covered in detail – installing the devices, and also linking them to apps and digital voice assistants for controlling them. The book then examines the digital voice assistants that can be used in the home to control smart home devices, including detailed information about using the most popular options (and their related speakers): Alexa and the Amazon Echo; Google Assistant and the Google Home; and Siri and the Apple HomePod.
The book then looks at specific areas of smart home devices, including installation and setup, and how to control them once they are up and running. Some of the areas that are covered in detail include:
Smart lighting
Smart heating
Smart security systems
Smart home cameras
Smart locks
Smart plugs
Illustrated using Amazon's Echo and Alexa; Google Home and Assistant; Apple's HomePod and Home App; and Nest.
Pages: 192
Publication: 24 August 2018
ISBN: 9781840788259