First of all, Happy 4th birthday Raspberry Pi!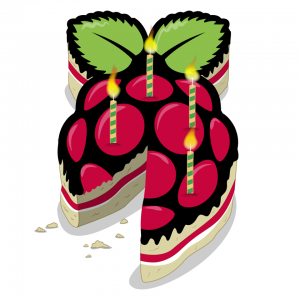 Today marks the 4th anniversary of the initial sales of the Raspberry Pi 1 – or technically the 1st birthday if you're observing leap years! And what a great piece of tech it is! Bringing an affordable mini computer to kids up and down the country, and now to users of all ages worldwide, the Raspberry Pi opened up computer science to the masses, showing how much fun programming can really be!
Now on to their 3rd model (on sale now for $35), what does the Raspberry Pi 3 Model B bring to the table?
Recommended for use in Schools as well as general use, Pi 3 has an identical form factor to the previous Pi 2 and Pi 1 Model B+. It has full compatibility with the Pi 1 and Pi 2. The third generation Raspberry Pi, it replaced the Raspberry Pi 2 Model B in February 2016.
Upgrading on the Raspberry Pi 2, the Raspberry Pi 3 contains:
2GHz 64-bit quad-core ARMv8 CPU
11n Wireless LAN
Bluetooth 4.0
Bluetooth Low Energy (BLE)
And continuing features from the Pi 2, it also has:
4 USB ports
40 GPIO pins
Full HDMI port
Ethernet port
Combined 3.5mm audio jack and composite video
Camera interface (CSI)
Display interface (DSI)
Micro SD card slot (now push-pull rather than push-push
VideoCore IV 3D graphics core
You can find out more about Raspberry Pi products here.
If you want to get to know a bit more about the Raspberry Pi, or if you want to get the most out of yours using easy, step by step processes, we have the title for you. One of our most popular releases, Raspberry Pi in easy steps covers all the basics to get you started with your own Raspberry Pi, from commanding the system, animating with Scratch and producing games with Python, to developing windowed apps and driving header pins, controlling electrical input and output. Whether you are a beginner, or a more advanced user, this in the ideal companion for getting to know your Raspberry Pi, inside and out!
Click here to watch a handy video tutorial of the Raspberry Pi 3 Model B.