Apple's annual conference happened yesterday, so here's a summary of their latest announcements:
New devices:
A new 10.5 inch iPad Pro, with redesigned retina display.
A faster and more powerful iMac, with a brighter and more vivid Retina display.
Seventh generation Intel Core processors for the MacBook and MacBook Pro, for even faster performance.
A powerful new product, iMac Pro – coming in December.
A new HomePod – a powerful speaker that is controlled through voice interaction with Siri, and allows  you access to Apple Music so you can play hi-fidelity sound throughout the room, no matter where it's placed.  It also helps with everyday household questions and tasks. And it's a hub for controlling your smart home accessories – coming in December.
New operating systems:
iOS 11 for the iPhone and iPad: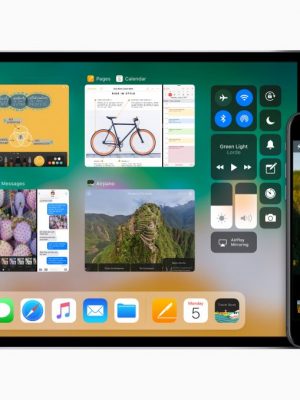 Including:
A new Files app to bring all your files together.
A new Dock which will be available from any screen.
Enhanced Multitasking capabilities.
Drag and Drop on the iPad so you can move text, photos and files from one app to another.
More versatile Apple Pencil capabilties for the iPad Pro.
A new document scanner in Notes.
A new QuickType keyboard to speed up your typing.
ARKit, a new framework that brings augmented reality to iOS devices by allowing developers to easily build AR experiences.
Apple Pay within Messages so you can send money to friends.
Live photo enhancements, so you can turn a live photo into a video loop.
A new camera on the iPhone.
A redesigned App Store.
Enhancements to Siri, including new, less robotic voices, and the ability to translate into other languages.
Apple Music enhancements, including the ability to share playlists with friends.
AirPlay 2 allows you to control  your home audio system and the speakers throughout your house.
Redesigned Control Center and Lock screen notifications.
A 'Do not disturb' function for when you're driving – iPhone can now sense when you're driving and prevent you from being distracted by calls, text messages, and notifications until later.
Enhancements to Maps to include indoor maps (of airports, shopping malls and other large venues), and lane guidance arrows.
A new operating system for Macs: macOS High Sierra coming in the Fall, with enhanced video and graphics capabilities and navigation improvements.
A new Apple Watch operating system – watchOS 4,with improvements to help you stay fit and healthy, new watch faces, and enhancements to the Music app.
Of course, we'll be updating our iPhone, iPad and Mac books later in the year to cover the new features, so keep an eye on our Coming Soon page.