You read that correctly, you can get £10 off orders of £50 or more on Amazon.co.uk today!
After being ranked #1 on the 2016 UK Customer Satisfaction Index, the internet shopping giant Amazon UK has given users the chance to save £10 on any order worth £50 or over, until the end of today (22nd January 2016)!
Enter the code BIGTHANKS at the checkout, and save some well earned £'s.
This code is available for one use per person, and applies to all of Amazon's own retail items. There are hundreds of thousands of items available through Amazon direct, so if you missed out on the Christmas or New Year Sales, this one's for you! Sadly though, this offer excludes Amazon Marketplace items and Amazon Prime registrations, baby formula, digital products (audiobooks, videogame downloads), gift cards, delivery charges and Crab Nebula items. See more information here.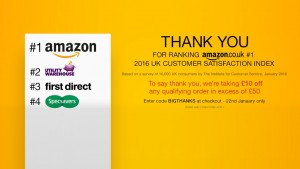 This celebration comes after the Institute of Customer Service named the online retailer top, having the most 'satisfied' customers in their yearly Customer Satisfaction Survey. "We are grateful to customers for ranking Amazon #1 in customer satisfaction in the UK," said Amazon UK's managing director, Christopher North. "We are constantly working to improve the overall experience we provide for our customers and set ever higher standards."
So get shopping! Use code BIGTHANKS to get £10 off a qualifying order of £50 or more!