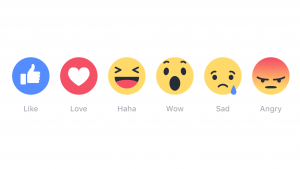 Have you ever wanted to express a more specific emotion when 'liking' a friend's Facebook post? Sometimes, it might not be appropriate to use the simple 'Like' button, and you require something more to convey your feelings. A frustrating drive to work? An unfortunate injury? Or perhaps a hilarious joke? Well not to worry, at the request of its users, Facebook has today announced the mobile and web-based rollout of the expanded 'Like' button.
With hints of the upcoming expansion, rumours have been circulating for the past year, as well as an early sneak peak last October. Now ready and raring to go, the new development – coined 'Reactions' – includes five different animated emoji options: Love, Haha, Wow, Sad and Angry. Of course, the traditional 'Like' option is still included, but the new options aim to give users a wider and simpler choice in responding to their friends' posts. Facebook will begin to slowly rollout Reactions to users worldwide today, so keep an eye out on your news feed as they will be appearing over the next few days!
You'll recognise the emoji animations, which are easily distinguishable from each other. Love is a heart, Haha is a wide-mouthed happy face, Wow is a mouth-open shocked face, Sad is tearful face, and Angry is a furrowed-brow red face.
To access the new emojis:
On a webpage
Simply hover over the Like / Reactions button until the options appear
Click on the desired 'Reaction' to apply it to the post
On a mobile device (Facebook app or Facebook mobile)
Tap and hold on the Like / Reactions option, the expanded options appear
Click on the desired 'Reaction' to select it and apply it to the post
And that's it! On the post, you'll then see a summary of the three most common reaction icons, and notification-wise, you'll be alerted when someone has 'reacted' to your post.

Make sure you have downloaded the latest version of Facebook, for whichever device you are using!
It's thought that once this feature has become a regular part of the Facebook user's lives, it will be expanded and developed routinely to keep up with demand and use. Sammi Krug, Reactions product manager states "Once this actually rolls out, we'll learn more about how people use the feature […] We'll continue to iterate it over time, based on user feedback."
Unfortunately though, there is still no appearance of the 'Dislike' button! "It would have been too binary," says Krug. "This way, though, you'll have more ways to express yourself. That's the goal."
We're looking forward to seeing the most used Reactions from you, our fans, on our Facebook page!